2016 Heart of America Stand Down in KC with The FEW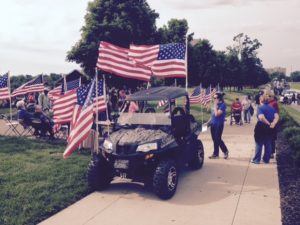 This year the Heart of America Stand Down in Kansas City, MO was at the Liberty Memorial.
During war, Stand Down means a brief break from the fighting; troops get much needed rest, warm meals, showers, relief of battle fatigue, piece of mind and fellowship.
Why a Stand Down?

A misconception by the general public; "Our government takes care of our veterans". Granted they should have some liability, it is not true. We spend billions preparing for war and training, yet nothing prepares our troops for returning home. While the VA tries their best to help 'some' that served, it does not provide to all, nor does their care treat all conditions caused by military trauma. Thanks to our Vietnam veterans, private causes, and involved communities, this is changing.
To many of our homeless veterans, life on the street is a war they are still fighting. But now, not for our freedoms, for their survival. The Heart of America Stand Down offers them a break from their battle, by bringing the community together, in a safe, violence and substance free environment, we provide resources that make a difference. It is estimated several hundred homeless veterans live in the Kansas City metro. These are men and women who were selected or volunteered to serve their country.
How did the Stand Down Help?
100's of community service groups and organizations from the greater Kansas City Metro come together to provide assistance and help rid the barriers that prevent homeless veterans from re-entering society as engaged, productive citizens and live more fulfilling lives. Assistance is offered with medical, substance abuse, legal issues, taxes, housing & utility assistance, family counseling, spiritual, mentor ships, educational and employment opportunities, hair cuts, and much more.

Who did the Stand Down Help?
Over 100 local private, government and faith based organizations come together at each Stand Down to offer a hand UP NOT a hand OUT to Kansas City's veterans. Success of Stand Downs in this great city, past and present, is a result of this coordinated community effort.
The FEW Associates Ben Kelley and Papa Don attended the event along with our supporters from Tankchair. It was an awesome event and The FEW was honored to be apart of it.