Ronny Sweger of The FEW honoring General Chuck Yeager with The Foundation for Exceptional Warrior's Challenge Coin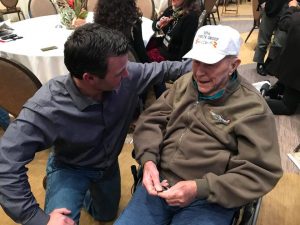 It's not everyday that you get the opportunity to coin an American Legend. Here's General Chuck Yeager receiving The FEW's coin. It was a humbling experience to meet and share stories with a great Exceptional Warrior.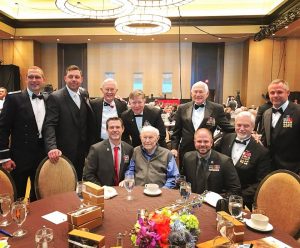 This picture represents over 400 years of military service. From State Senators, Generals, Admirals, Skipper of the USS Kittyhawk, astronauts, and of course General Chuck Yeager. It was an incredible pleasure to share the evening with you warriors.
The FEW defines "Exceptional Warriors" as the "operators" within the Special Operation Forces community, those heroes recognized by the DOD for valorous actions, and the warriors that have been combat wounded. As General Patreus said: "They walk the point for our Nation."
"The SOF Operator will remain the strategic cornerstone of the Global SOF Enterprise. This expert warrior is regionally grounded, well-educated, diplomatically astute, and a master of the SOF tradecraft. As the integrating factor at the most fundamental level of operations and activities, the innovative, tenacious, and networked SOF Operator is hand-selected, rigorously trained, and deliberately educated throughout their career to increase their strategic vision – enabling them to better shape the environment and exploit emerging opportunities.
In an age of economic constraint and a politically enflamed global landscape, the SOF Enterprise of 2020 employs agile, flexible, low-visibility and highly adaptable capabilities against insurgency, countering WMD, terrorism and nexus with transnational crime. The SOF Enterprise of 2020 shall project power, promote stability and prevent conflict."
–Commander of SOCOM from his 2020 Strategy
Special Operation Forces (SOF) are defined as the Active and Reserve Component forces of the Military Services designated by the Secretary of Defense and specifically organized, trained, and equipped to conduct and support special operations. SOF operators are defined in no specific order below.

SPECIAL FORCES (GREEN BERETS)
Green Berets are highly trained specialists who are frequently deployed worldwide to operate alone or in small teams to carry out our nations policies and objectives. Typically assigned to a 12 man team, they are deployed worldwide to accomplish their missions, frequently living on the local economy and working closely with their host nation counterparts. Their training and experience provides a unique and flexible force which can be tailored to operate in small teams.
Green Berets perform seven doctrinal missions: Unconventional Warfare, Foreign Internal Defense, Special Reconnaissance, Direct Action, Combating Terrorism, Counter-proliferation, and Information Operations. These missions make the Green Berets unique in the U.S. military because they are employed throughout the three stages of the operational continuum: peacetime, conflict and war.
RANGERS
Rangers, are capable of conducting squad through regimental size operations using a variety of infiltration techniques including airborne, air assault and ground mobility platforms.
The 75th Ranger Regiment remains an all-volunteer force with an intensive screening and selection process followed by combat-focused training. Rangers are resourced to maintain exceptional proficiency, experience and readiness. The 75th Ranger Regiment is a proud unit and a team of teams serving the Nation.
SEALS (SEA, AIR, LAND )
The SEAL Team is the heart of the NSW force; a multi-purpose combat force organized and trained to conduct a variety of Special Operations missions in all environments. SEALS conduct clandestine missions infiltrating their objective areas by fixed- and rotary-wing aircraft, Navy surface ships, combatant craft, submarines and ground mobility vehicles.
AIR FORCE SPECIAL OPERATIONS (AFSOC)
AFSOC Special Tactics Airmen include Combat Controllers, Pararescuemen, Special Operations Weathermen and Combat Aviation Advisors. Combat Controllers are Special Operators and certified air traffic controllers who are an integral part of the Air Force Battlefield Airmen team. CCT commitment to be the first deployed into restricted environments by air, land or sea to establish assault zones.
Pararescuemen, commonly known as PJs, are the only Defense Department specialty specifically trained and equipped to conduct conventional and unconventional recovery operations. A PJ's primary function is as a personnel recovery specialist with emergency trauma medical capabilities in humanitarian and combat environments.
MARINE CORPS SPECIAL OPERATIONS (MARSOC)
Critical Skills Operators are the front line Marines and Sailors who are complex problem solvers able to operate across the full spectrum of Special Operations in small teams under ambiguous, sometimes austere, environments while maintaining a high level of mental flexibility and physical endurance. CSOs exemplify the Marine Corps' concepts of Distributed Operations and the Strategic Corporal. These warrior-diplomats are able to operate across the spectrum of force. They are experts in utilizing the right force at the right time with the right effect. MARSOC forces provide Foreign Internal Defense, special reconnaissance, and direct action capabilities to commanders.
VALOROUS ACTIONS
Valorous actions include, but are not limited to, those acts of boldness or determination in facing great danger, especially in battle; heroic courage; bravery. These actions are recognized by the Department of Defense with military medals for valor, for example: Medal of Honor , Silver Star, Bronze Star with a Valor device, Soldiers/Airman's Medal.
COMBAT WOUNDED
A term referring to the entire population of service members and veterans who incurred a wound, illness, or injury for which the member was awarded the Purple Heart Medal.
To learn more about the warriors of SOCOM, View 2013 SOCOM Fact Book Here.