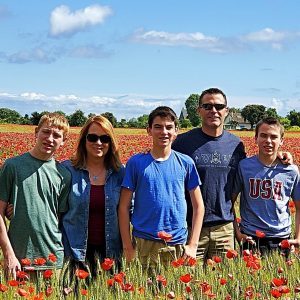 Ronny Sweger joined the Army in 1993 and has served in both the 5th and 3rd Special Forces Group. He had the opportunity to go to many advanced schools and specialized in breaching, assaulting, and target interdiction.
Ronny has multiple deployments to Afghanistan, Iraq, and Africa. His first deployment to Afghanistan and Iraq were both unique. In Afghanistan his team raised, trained, fed and led an Afghan Army to repel the Taliban. In order to have a base of operations, Ronny also planned, coordinated, and supervised the construction of the first Special Forces A-camp in Afghanistan at Orgun-E.
Before the invasion of Iraq, his team flew in early to prepare for the Airborne assault and the subsequent invasion. His A-Team was in the drop zone as the 173rd made their combat jump. The Team was the Combat Search and Rescue for northern Iraq.
Ronny deployed several more times and continued to incur injuries before being sent to a Medical Board. He was honorably discharged and medically retired in December 2009.
While volunteering in 2011, Sweger discovered a grossly overburdened and undeserved group of veterans; Special Operations and those Warriors that have risked their lives and therefore, earned an award for Valor. To fill this void, Sweger co-founded The Foundation for Exceptional Warriors, The FEW, a 501(c)3, which provides therapeutic recreation for Special Operations, the Valorous, Prisoners of War, and also Combat Wounded.
Today Ronny resides in Oklahoma with his wife Claudia and triplet sons Briggs, Brett and Brooks. He is the Executive Director of The Foundation for Exceptional Warriors and travels extensively in support of veterans outreach.
Though decorated for his 14 years of military service, Sweger is even more honored by his more recent achievements for his volunteer service. Ronny has received the Military Outstanding Volunteer Service Award, the Maj General Douglas O. Dollar Distinguished Service Award, The President's Lifetime Achievement Award, and has been inducted into the Oklahoma Military Hall of Fame.