Ozark National Scenic Riverways Honors Veterans with Special Hunt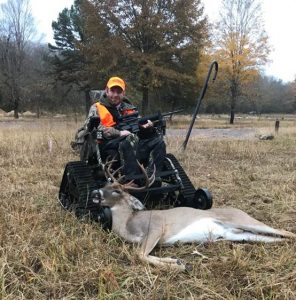 VAN BUREN, MO: Ozark National Scenic Riverways hosted its 5th annual Exceptional Warrior Mobility Impaired Managed Hunt on November 4th and 5th.  In its fifth year, the Exceptional Warrior hunt has grown to include over 15 sponsors and many volunteers whose primary goal is to honor veterans by providing a special and memorable experience. For the past 2 years, the out-of-pocket expenses which would be incurred by each hunter have been paid for by The Foundation for Exceptional Warriors (The FEW), resulting in a no-cost hunt to each hunter. Ozark Riverways accepts ten applications for this event. Each hunter is allowed to harvest two deer. Because hunting is normally restricted in this area of the park, a managed hunt actually benefits the Big Spring deer population and improves the overall health of the herd.
Friday evening before the hunt, all hunters, assistants and volunteers gathered at park headquarters in Van Buren for a pre-hunt meeting and dinner. The event began with a presentation of handmade quilts made by the Van Buren Quilts of Valor Chapter to each hunter. The mission of Quilts of Valor is to 'cover all our warriors and combat veterans who have been touched by war or wounded with our healing and comforting Quilts of Valor'. Mary Ann Pfeifer, the local Chapter Coordinator, said "We just love these guys and all they have done for us." To date the local chapter, which operates on donations, has made and presented over 300 quilts worldwide.  The evening ended with Shawn Winters of S-N-T Taxidermy presenting each hunter with the option of a donated shoulder mount or rifle. The Rocky Mountain Elk Foundation also provided each hunter with a knife, and one hunter received an Alps Outdoorz backpack.
Saturday morning brought cool temperatures and calm winds; ideal conditions for a successful hunt, made evident by several hunters filling or partially filling their quota the first day. Park staff, community volunteers and sponsors eagerly assisted in retrieving and processing the deer, and then packing on ice.  The camaraderie continued with hunting stories and jokes while hunters and assistants enjoyed a hearty fried chicken lunch made possible by The Foundation for Exceptional Warriors, Smalley's Convenience and the Missouri Department of Conservation. Billy Nipper, who served as a hunt assistant to his father-in-law, remembers the event as "the most rewarding hunt I have ever experienced. The outpouring of support that was shown from all that were involved was very moving. It was very evident that all of the volunteers, hunter assistants, and staff were on board for making this event special to all of the participants."
The success of this hunt went far beyond the direct assistance of park staff. Many local sponsors contributed in significant ways.  Event coordinator Kim Houf, the park's Terrestrial Ecologist, was "grateful and in awe at the many expressions of support we received this year. From food donations to volunteers asking to be involved in some way, there was an overwhelming demonstration of respect and gratitude for these exceptional warriors." It was obvious to everyone involved that this hunt was about giving back – giving to those who have sacrificed so much. The hunt is designed to provide an opportunity for service members to have an experience that they normally would not be able to have. For many, the hunt means so much more than harvesting a deer; it is a complex healing experience from the inside-out. Many memories and lasting friendships were made not only by the hunters, but also by Ozark Riverways staff, volunteers and sponsors who participated in the hunt.
One returning hunter captured it best, stating "Thank you and all who helped for making veterans feel so welcomed and appreciated!! The crew and host of additional volunteers did it once again. An amazing operation in support of our veterans and wildlife management.  The unbelievably generous donation of taxidermy or a rifle was just icing on the cake. Even excluding that, we had a fantastic weekend. We enjoyed two very full days of deer hunting in fabulous natural surroundings, while spending time with our now 'old' friends, as well as the new ones this year. Thank you and all who helped for making veterans feel so welcomed and appreciated!!"
Riverways Superintendent Larry Johnson was "pleased to once again offer this unique recreational opportunity.  This year's managed hunt was a huge success.  We are grateful to our partners who so graciously help us provide these opportunities."
Ozark National Scenic Riverways would like to personally thank the following volunteers and supporters for helping make this hunt successful: The Foundation for Exceptional Warriors (The FEW),  Quilts of Valor – Van Buren Chapter, The Missouri Department of Conservation, The Rocky Mountain Elk Foundation, S-N-T Taxidermy, Smalley's Convenience, 3 Rivers Developers, Edmondson Inns & Warren Law, Focus Bank, Gene & Kelly Ellis, Larry Price, Missouri Conservation Heritage Foundation, Morgenson Construction, Outdoors in the Delta TV, Outdoorsmen with a Mission, Screenshots, Terry Trip, The Wake Foundation, Trey Rone, Emily Sellinger, Stan Putthoff, Lee Bland, Shawn Winters, Charles Gordon, Matt Zastera, Hunter Gordon, Piper Daniels, Jade Daniels, Riley Daniels, Kris Roberson, Max White, Reva Dow, Ryan Hoskins, and Christy Sanders.
Ozark National Scenic Riverways preserves the free-flowing Current and Jacks Fork Rivers, the surrounding natural resources, and the unique cultural heritage of the Ozark people.  For more information, call (573)323-4236 or visit the park's Facebook page,  or website at www.nps.gov/ozar.