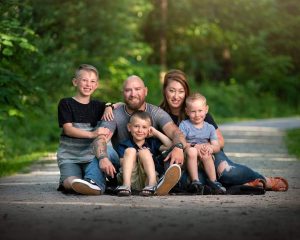 Joseph Bukoffsky
FEW Associate
Joseph Bukoffsky served in the United States Marine Corps from March 2005 to April 2012 as an 0311 infantryman. During this time, he served on three deployments to Iraq and one to Afghanistan with 1st platoon.
Bravo Company, 1st Battalion, 2nd Marines, 2nd Marine Division. In his marine corps career, he served as point man, radio operator, team leader and squad leader earning himself three Navy Marine Corps achievement medals with one being awarded for Valor and a Purple Heart.
In 2010 after being meritoriously promoted to the rank of Sergeant he was deployed to Musa Qala, Helmand Province, Afghanistan. While serving as 2nd Squad leader for 1st platoon he led several named operations resulting in several explosions in vehicles, one being on foot.
While doing a clearing mission on July 23rd, 2010 Sgt. Bukoffsky was shot in the left knee. This ultimately led to an above knee amputation after a 10-year limb salvage battle.
During his time in recovery and fight with the VA, Sgt Bukoffsky and his wife became passionate about the variety of needs veterans, spouses/caregivers and their families experience in the medical, mental and support realm. Building a strong community after service with veterans who would otherwise be left behind, yet are humble and exceptional warriors is one the strongest driver in what led him to the FEW. Being able to advocate for and connect multi- generational veterans to each other and advocate for their diverse needs and experiences is one of the highest honor and privilege to serve once more.
Sgt. Bukoffsky has been happily married since March of 2009 to Emily. They have 3 boys; Joey, Brantley, and Eli.