Helping those who served together, heal together
How helping those who served together, heal together brought three exceptional warriors from different military branches together in North Dakota last weekend to hunt ducks with The Foundation for Exceptional Warriors organization, not only was it an outdoor adventure but a time for camaraderie.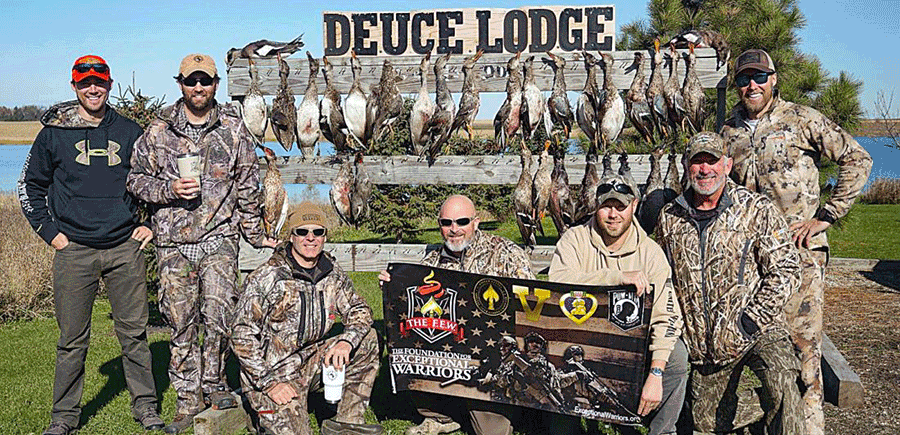 The group, along with Daniel Haff, a foundation associate from Minot, and Ronny Sweger, the foundation's co-founder and executive director from Bixby, Okla., hunted in the Forman area in Sargent County in southeastern North Dakota. Haff and Sweger also are exceptional warriors.
The Foundation for Exceptional Warriors, also known as The F.E.W., is a nonprofit organization that uses adventure to unite exceptional warriors who served in the military and to promote healing at no cost to these veterans.
Exceptional warriors include Special Operations Forces, Ex-Prisoners of War, Purple Heart recipients and those recognized for valor from every era, any conflict. The F.E.W. is open to a person of any gender who meets the organization's criteria
"It's usually small groups (no more than five or six exceptional warriors)," said Haff of the adventure outings. He said this way it is easier for those participating to visit and form relationships.
A Purple Heart recipient who was wounded in Afghanistan, Haff retired from the Army in 2008.
He said an adventure of The F.E.W. is not the most important part of an outing.
"In fact, we've been on several events where we didn't catch that many fish or shoot that many ducks. It doesn't matter. It's getting together with people that know you – sometimes without knowing you – but you've been through the same thing. You've been through the same action and trauma that combat has to offer. I and most other guys kind of figure out after the fact how isolated that they felt and maybe not even realize it," he said.
He said participants at The F.E.W. events have told him later that it is life changing for them. "They started feeling like they weren't alone anymore,," he said. He said especially in combat arms and special forces, it's all team-based. "Without a team you fail. Without a mission you don't have anything. When you get out, all of a sudden you don't have those things again," he said.
Those who served in Special Forces and others who risked their lives, earning an award for valor are finding hope and fulfillment with The Foundation for Exceptional Warriors' adventures.