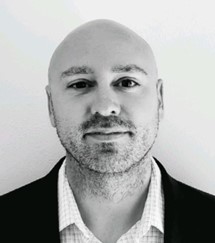 Jeff Wilson
Associate
Jeff grew up in a small town in Pennsylvania. Prior to joining the Marine Corps, he worked in Emergency Security at a local hospital where he planned to transition to the Police Department on his 21st birthday. While working there, he spent time with former military members hearing stories from new and old veterans alike. Being twenty, he already felt regret for not joining after graduating high school, so he went to the Marine Corps recruiter and signed up. Two weeks later he was in bootcamp in Parris Island, South Carolina. It just so happens that 5 days later, the tragic events of 9/11 took place. Immediately, he knew he was in the right place and prepping for the mission ahead.
Jeff was assigned to Weapons Company, 3rd Battalion, 7th Marines Regiments, 1st Marines Division in 29 Palms California. He served two tours in Iraq. The first was OEF/OIF1 in 2003. He was part of the initial invasion into Iraq and was a Javelin Gunner frequently attached to the Surveillance and Target Acquisition (STA) Teams. After the war ended in May 2003, all Weapons teams were divided into Combined Anti-Armor Teams (CAAT). In February 2004, 3/7, deployed for their second tour (OIF II) in the Al Anbar province on the Syrian border. Here, Jeff was assigned to CAAT Blue Charlie with a focused AO in Al Qa'im. During this time, he was hit with multiple IEDs, with the closest being less than 7 feet away. This caused a TBI with lasting effects, but Jeff was fortunate to not have to leave the battlefield.
After he left the Marine Corps, he moved back home to Pennsylvania, but he missed the comradery of the group he fought with. He longed for the level of commitment and the overall mentality that you can only find in the military. He stayed close with another Associate, Russell Friedman, who introduced him to The FEW. During a FEW trip, Jeff reconnected with old friends and found the connection that he had been missing for over 16 years. He also met new friends that felt like old friends even though he had only met them days before.  The solace found within an organization of like-minded individuals who have been through similar difficult circumstances cannot be overstated and Jeff feels like he has found a new purpose in life. Jeff now lives with his family in Whitefish Montana where he loves exploring the outdoors and showing other veterans the beauty that only Montana can offer.