What a weekend at The FEW event with Tyson Foods!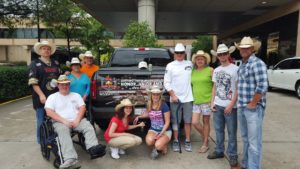 We have to thank Dale Gambrill from TYSON foods, The Alabama Poultry and Egg Association, Don Walkers Western Wear, and obviously the chart topping Country Music group PARMALEE and singer Jana Kramer.
Six Warriors and spouses had a weekend to remember in Alabama with the Foundation for Exceptional Warriors ( THE F.E.W ) all thanks to the support of these great Patriots and sponsors.
(Special thank you to Gary Everett, FEW Associate)