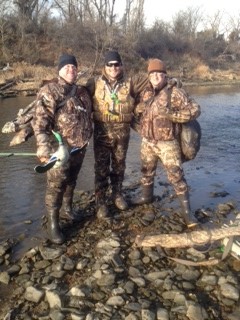 Taylor Roberts
Associate
I am from Claremore, OK originally, grew up hunting waterfowl, which I regard as my main interest and specialty.  I like to deer hunt but it just doesn't interest me as much as bird hunting.  I consider myself a low-speed retriever trainer, love to train Labs.  I have guided some in my hunting career mostly waterfowl and turkey hunts. I have a lovely wife, Elizabeth and have two beautiful daughters, Sunday and Scout.  I currently work for State Farm in the Auto Claims Department.  
I currently serve with the 45th Infantry Division of Oklahoma National Guard, where I am a SGT and serve as a Fire Team Leader in an Infantry Rifle Company.  I served for 3 and half years active duty with the 2nd Battalion 8th Infantry Regiment, 2nd Brigade Combat Team, 4th Infantry Division.  While active duty I was deployed to Iraq where I served a complete combat rotation of one year, where my Infantry company u was involved in counter-insurgency operations.  
I met Ronny through one of the best friends and greatest men I have had the honor to know, Bill Kolb, and instantly was drawn to what Ronny is trying to establish.  As a combat vet, to me, there is nothing more healing as being out in the woods, sorting everything out with God and his creation.  I am saddened to see our country fall down deeper into psychiatrists and psychologists, when the best medicine is God and what he created.  What makes it even better, is sharing those times with like minded people, who know exactly what you are going through and are only there to provide you with support and a good time.  I am honored to be included in the FEW, and it is my goal to impact the lives of the men who served on behalf of me and sacrificed themselves on behalf of our great nation!