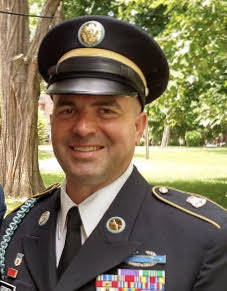 Richard Gerbeth Jr
Associate
Richard Gerbeth, Jr.'s dedication to the Foundation for Exceptional Warriors is rooted in first-hand experience. Years after meeting and befriending founder Ronny Sweger, he finally gave in and went on a deer hunt with other Exceptional Warriors. It was one of the most memorable experiences of his life.
Initially Richard resisted Ronny's attempts to persuade him to attend because of his survivor guilt telling him, "You don't deserve it." During his tour in Iraq, his dear friend SPC Segun Akintade was Killed in Action while under his command. This haunted Richard to the point of hopelessness. It was not until he could accept the abundance of help available that he could move forward in his recovery process.
Richard was born in the Bronx, NY, and raised in the suburbs of New York City. He was always very close with his paternal Grandfather SSG Hellmuth Gerbeth, who was a Medic in WWII. His Grandfather taught him to shoot, hunt, and fish at the age of ten.
At seventeen years old, Richard enlisted in the U.S. Navy during the Persian Gulf War but was honorably discharged after one year for medical reasons. After using the Montgomery GI Bill to attend Westchester Community College, he was hired by United Parcel Service. He was initially a part-time worker but after five years he became a full-time package delivery truck driver. During this time his children Garrett and Ann were born. In April of 1999 he enlisted into the New York Army Reserve National Guard and volunteered for the Infantry. He was activated for state missions throughout New York during and post-September 11, 2001.
In October 2003 in support of Operation Iraqi Freedom, his Unit Alpha Company Task Force, 2nd Battalion-108th Infantry Regiment was mobilized and attached to the 2nd Brigade Combat Team, 1st Infantry Division. He was meritoriously promoted to Sergeant and served as an E-5 Fire Team Leader. Five days before crossing the border from Kuwait into Iraq, his third child, Derek, was born. He did not see him for five months. After he returned home, his fourth child, Noelle, was born.
His individual decorations include the Purple Heart, Army Commendation Medal with "V" device for Valor, Army Achievement Medal, and the Combat Infantrymen's Badge.
After his release from active duty in April 2005, he returned to drill status for one year until he was medically retired from the U.S. Army. After multiple attempts to return to work at UPS, he was unable to perform his duties due to Traumatic Brain Injuries and Post Traumatic Stress. He retired from UPS after an 18-year career.
Richard is committed to improving the lives of others. He volunteers within the prison system through his church. He has volunteered with a therapy dog at his local Veterans Hospital and has served as an assistant Scoutmaster. He always enjoyed the great outdoors, whether it be hunting, fishing, or camping. Richard is a die-hard New York Yankees fan and loves Harley-Davidson motorcycles.
Today he is eager to serve Exceptional Warriors who have sacrificed for our nation, either through service in Special Operations Command, those decorated for Valorous acts, Purple Heart recipients, or former Prisoners of War, through the adventure-based outdoors programs offered by the Foundation or in any way he can.
The FEW