On August 20th The FEW, US Army Golden Knights, Children of Fallen Heroes and Sun Path Products, Inc came together to provide 2 Exceptional Warriors and their family an awesome day at Laurinburg, North Carolina.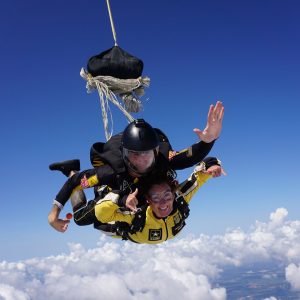 The Foundation for Exceptional Warriors will be hosting Georganne, the Gold Star Wife of 1SG Billy Siercks, in North Carolina. Billy was killed in action in Afghanistan in 2011, helping his men to safety during an incoming rocket attack. He was posthumously awarded the Bronze Star Medal for Valor and the Purple Heart. His service also included time with E co. 51st Long Range Surveillance, and 1st Battalion, 32nd Infantry Regiment 10th Mountain Division in the Korengal Valley, Afghanistan. Billy was a true Exceptional Warrior.
One of Georganne and Billy's bucket list wishes was to skydive together, and thanks to the spectacular U.S. Army Golden Knights, and some other very special supporters, The FEW is truly honored to be able to help provide this opportunity for her.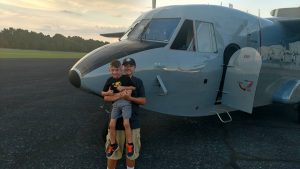 The Siercks' sons, Gabe and Gage got to meet Pat, owner of Sun Path Products, Inc, who was a gracious contributor to the HONOR Jump.  While there, they were able to watch some of our nation's elite Special Operations warriors conduct jump training on the DZ.
Children of Fallen Heroes  made the Gold Star Jump as memorable as possible for the Siercks family, as well.  They are a  great organization that not only serves the families of our fallen soldiers, but police, EMS and other first line Responders who serve our nation and local communities.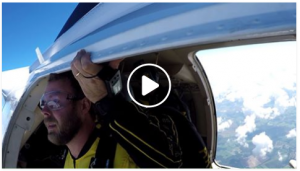 First skydive for Exceptional Warrior, Purple Heart recipient SGT (ret.) Daniel Haff, with the US Army Golden Knights!
In addition to being an Exceptional Warrior, SGT Haff was a close family friend of the Siercks, our Gold Star family. He and 1SG Billy Siercks served together with A co. 1-32 Infantry, 10th Mountain Division in the Korengal Valley, Afghanistan, where Dan was wounded in action.
The FEW was honored to have him with us this week, sharing stories about their hero angel with his sons Gage and Gabriel.
Video courtesy of the Golden Knights
Today, and every day, The FEW honors their fallen, and all Exceptional Warrior.  If you would like to partner with The FEW to help change a life click here…
In case you all missed it. I jumped with the Golden Knights!!!! I was so close to heaven near Billy!!! I want to do it again!!! Gage is next when he turns 18!!!!
We are extremely grateful for The FEW and this experience. I couldn't back down this time like I did in the past. Off the bucket list that was for me and my husband to do.
Georganne Siercks