Ronny Sweger Executive Director and Co-Founder
Chris Wolfenbarger Board of Directors
Mark Donald Advisor
Ronny Sweger – Executive Director and Co-Founder Exceptional Warriors

First to be selected during the Special Forces Assessment and Selection process in 1997 and graduated as the Distinguished Honor Graduate of the Special Forces engineer qualification course. After Arabic language training, assigned to a Direct Action, HALO team Operational Detachment Alpha (ODA) 564, becoming a subject matter expert in breaching and as an assaulter. Assisted in the training of fellow Special Forces operators, Special Operations Forces (SOF) from the Marines and host Nations, and members of SEAL Teams 2 and 3 in close quarters combat and tactical breaching.
While in rehab from an injury, served as the Special Operation Command and Control Element-Kuwait Liaison Officer (SOCCE-KU LNO). As the LNO, he coordinated, tracked, and supervised all SOF activities in Kuwait. Later, he assumed the SOCCE-KU Non-Commissioned Officer In Charge (NCOIC) position and was recognized for his distinctive accomplishments as the NCOIC and as the LNO by both the Base and SOCCENT Commander.
Reassigned to 3rd Special Forces Group in 2001. After 9/11, deployed to Africa with ODA 381 as the Senior Engineer. Redeployed to Afghanistan in January 2002 to link up with "war lord" Zakem Khan and raise a 300 man Afghan Army to help repel the Taliban. Planned, coordinated, and supervised the construction of the first Special Forces A-camp in Orgun-E, Afghanistan while conducting combat operations.
During the invasion of Iraq, he was assigned as the Combat Research and Rescue Site Security, Joint Special Operations Air Detachment-North for all personnel recovery capabilities in northern Iraq. His team flew into Iraq early and was on the ground, in the drop zone, as the 173rd made their combat jump into Iraq. Ronny also supervised the construction of the Joint Special Operations camp in Bashru.
After several more combat deployments he was sent to a Medical Board for evaluation of injuries. Upon the Board's completion, he was placed on the Temporary Disabled and Retirement List. He was honorably discharged and medically retired for injuries in 2009.
Co-founded The Foundation for Exception Warriors (The FEW) in 2012.  Through Recreational Therapy, The FEW serves SOF operators, those recognized for heroic actions and the combat wounded.
Resides on his Oklahoma farm with his wife Claudia, of 20 years, and his triplet sons Briggs, Brett and Brooks. He continues to serve the military as a volunteer. He is a "Mentor" with the Special Operations Command Care Coalition and is Military Advisor for paws4Vets/Ppws4People Foundation. Ronny and his wife are on the Folds of Honor Foundation's Speaker Bureau, and he is also a Scholarship Advocate. As the Scholarship Advocate, Ronny has helped give over six millions dollars worth of scholarships to disabled veteran's family members.

Chris Wolfenbarger – Board of Directors
Chris is a 45 year old Certified Appraiser and father of three children with his wife Leah.
He joined the National Guard at age 38 to help with stateside disasters like Katrina and give back to his country. After MOS training as a medic, he volunteered to teach a combat lifesaver course to the 1141st Engineer Company. At that time, he was asked to transfer to the unit for their pending CIED deployment to Eastern Afghanistan. Chris was injured on February 12, 2010 by a suicide vehicle born improvised explosive device or SVBIED and medically retired from service for combat wounds sustained on Oct. 23rd, 2013.
Chris is involved with The FEW because, in his words, "I am a normal American Citizen that served."
His service has given him a first hand look at what the SOF community does for our Nation and our world. After seeing these Quiet Professionals at work in areas of the world that had been razed to the ground by centuries of conflict there is no way he could sit idly by when these true heroes need help. He is proud and humbled to be involved with The FEW.
Mark Donald – Advisor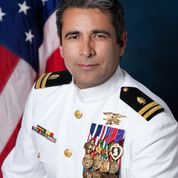 Mark Donald is the most decorated Physician Assistant in the history of the United States Navy.
A former Navy SEAL and front line medical provider, Mark understand how to overcome adversity and critical decision-making in the high stress environment.  His book BATTLE READY – Memoir of a SEAL Warrior Medic describes his life in special operations and the difficulties he faced with Post-Traumatic Stress.
A loyal advocate of the America's service members Mark devotes a great deal of his time supporting the veteran community.  He's served on the Board of Directors of the Legion of Valor, the Special Operations Medical Association and as a Commander of Military Order of the Purple Heart for the Department of Virginia.
Currently, Mark is President of JIC Global; a Virginia based consulting firm specializing in global health, workforce development and cross-cultural outreach strategies.
Mark hold a Bachelor of Science, and a Masters in Physician Assistant Studies from the University of Nebraska.  His military decorations include the Navy Cross, the Silver Star, the Bronze Star with "V" for combat distinction, the Purple Heart, the Special Warfare (SEAL) breast insignia, the Honduran Medal of Merit and various other personal, unit and campaign awards.