The Few's Charity Bowl Tournament in KC with Enterprise and Aaron's Family Fun Center.

The FEW is extremely excited to team up with Enterprise and Aaron's Family Fun Center to help raise funds and awareness for The FEW's Mission! We are looking for 5 Warrior Bowlers – SKILL AT BOWLING IS NOT REQUIRED for Saturday March 4th, 1:00 PM to 5:00 PM at Aaron's Family Fun Center, 17070 Aaron Ln, Belton, MO 64012.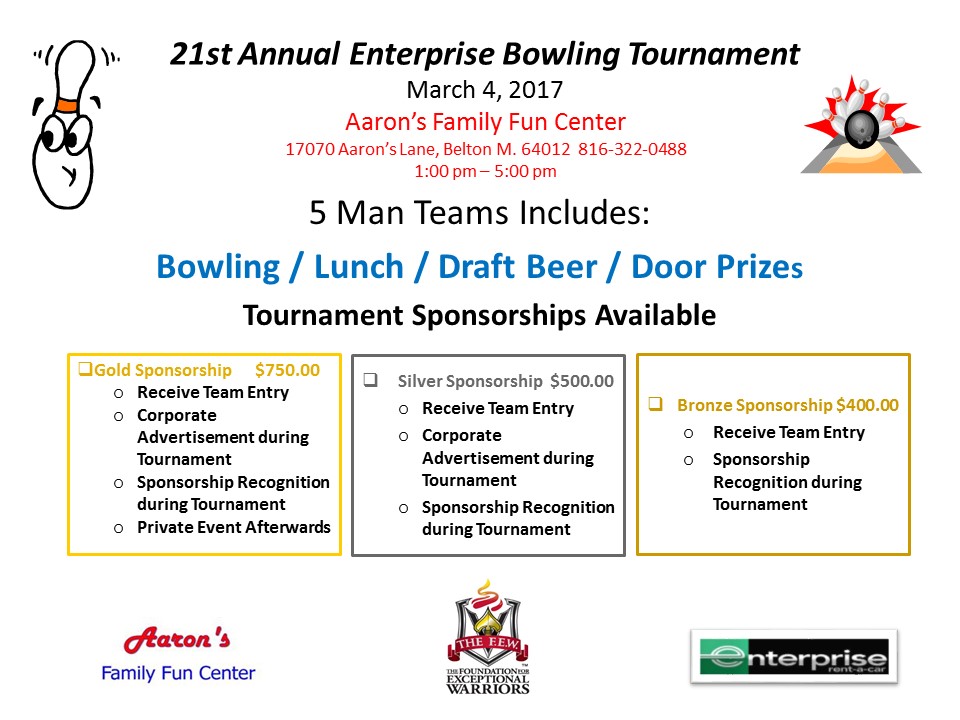 There will be a raffle and an auction. Lunch and drinks will be provided for those in the tournament.
Please click here to fill out the Warrior Application…
Since our founding in 1957, Enterprise has been committed to making life better in the communities where our customers and employees live and work. Even as we've expanded to more than 7,600 locations across the globe, we remain true to that same commitment: supporting programs, practices, and partners that improve the quality of life in the places that we call home.
Our employees live this mission by donating their time and energy to mentor at-risk youth, supporting local food banks, cleaning up parks and volunteering at local homeless shelters. Of the $27.3 million that the Enterprise Holdings Foundation donated in 2016, more than $24 million went to fulfill requests from our employees to support community causes that they personally champion and actively support.
Giving back to our communities is just one element of our broader commitment to sustainability – to managing our business for the long term. From our vehicles, our car sharing and van pooling services, to planting 50 million trees, and investing in renewable fuel research, we are committed to sustainable transportation solutions for generations to come.