Fishing Tournament in NC for Special Operations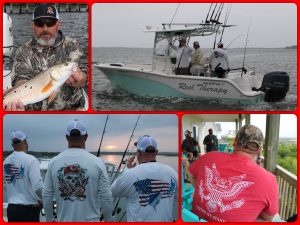 Fishing Tournament in NC for Special Operations, POWs, Valor Awardees and Purple Heart Recipients.
The 2018 New River Inlet Fishing Tournament has come to an end. Even though the weather was questionable our Exceptional Warriors caught 42 fish over the weekend and made new friendships that will last a lifetime.
This weekend would not have been possible without the support of our private donors and sponsors. The FEW would like to thank Fishbones Inshore Fishing Charters, Captain Jb Angell, Captain Todd Edwards and his first mate Brian Barber, Bobby Francis at Sea Gear Performance Wear, and the NWTF New River Longbeards Chapter for the amazing food.
The Foundation for Exceptional Warriors is a national organization that launched in 2012.
Our mission is to provide therapeutic events for those warriors who were Wounded in Combat, Decorated for Valor, Special Operations, and last but definitely not least Prisoners of War. Any era. Any conflict. Not just post-911.
Our events reward these warriors for their sacrifice, expand their horizons, break down barriers, provide peer to peer networking opportunities, decompression, and when possible reunification with fellow warfighters they served with and may not have seen for years, or even decades. We don't do "charity". These warriors have earned far more than we could ever hope to do.
We are all volunteer. None of us take a paycheck. Period.
Last year we served approx. 435 Exceptional Warriors on great adventures on a budget of approx $85,000, with 3% overhead.
We're staffed mostly by experienced warfighters, from various branches and backgrounds, most of whom were Wounded in Combat, Decorated for Valor, Special Operations, and often a combination thereof. We can relate to our Warriors in a way some organizations can't. We can also do a LOT with a little, so every donation counts.
We also have a very tight-knit and dedicated core of non-military volunteers who are absolutely essential to what we do. Not to mention phenomenal relationships we've built with numerous other amazing organizations, businesses, and people with whom we are delighted to collaborate with and appreciate immensely.
We are The FEW, supporting the few.  www.exceptionalwarriors.org