The FEW's Mitsdarffer Waterfowl Team in the Field in MO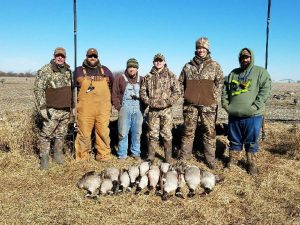 The Foundation for Exceptional Warriors – The FEW's Mitsdarffer Waterfowl Team had the privilege to guide Warrior Dave Foust and his sons, Zane and Matt on 28 January 2017. Foust had been contacted by other Veteran Organizations for events like this several times before but always declined for one reason. He wanted to hunt with his sons and they were "Warrior Only." Foust said, "This is what made The FEW different. I asked if I could bring my sons and they said Absolutely Yes. The FEW understands that every warrior's primary support comes from home. Warriors volunteer for service. Family members are forced to serve."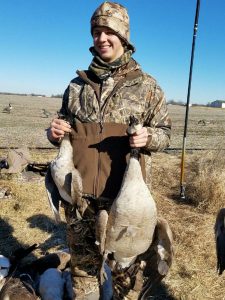 A successful day all around. An early meet and greet breakfast allowed us all to finally put faces with names. There were plenty of hunting stories and unnecessary white toast to go around but as the goose hunting dialogue goes "No decoy ever set itself".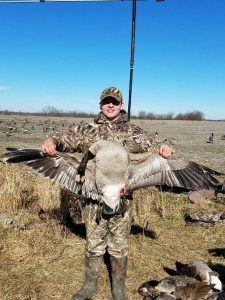 Once again, we relied on our fantastic host, Vernon Everly. The Everly family has been a huge factor in our success with warrior hunts.
There's no better sight, with ten minutes of set-up left, than to see the first two singles of the day flying. We spent the next couple of hours with steady geese nonchalantly working us, leaving minimal time for conversing. Even though our opportunity to talk with Foust and the boys was limited, we mostly learned about the kind of man he was through the demeanor of his sons. Well-mannered, well-spoken, successful athletes with a great work ethic, and knowledgeable conservationists. If success is measured by those who will succeed us, then Dave Foust has done the job!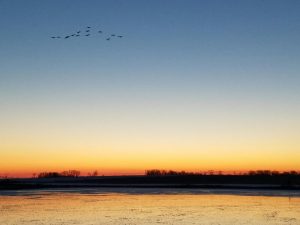 As for getting the job done: Chris Mitsdarffer, Matt Mitsdarffer, Dave Mitsdarffer, and Steve Horner, thanks for making this hunt successful. Chris Wolfenbarger and Ted Broker, thanks for breakfast and all your work in coordinating the event. Lord, thank you for the seventeen birds harvested!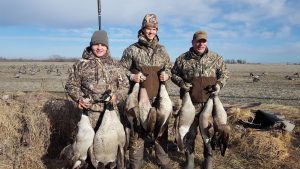 At the end of the day we only hope we were able to show this warrior, Dave Foust, our appreciation for his service. Likewise, showing Zane and Matt our appreciation for their sacrifice.