Primary Mission: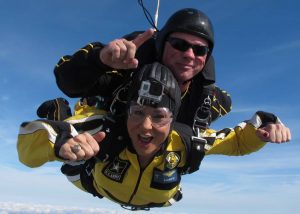 The Foundation for Exceptional Warriors will be hosting Georganne, the Gold Star Wife of 1SG Billy Siercks, in North Carolina. Billy was killed in action in Afghanistan in 2011, helping his men to safety during an incoming rocket attack. He was posthumously awarded the Bronze Star Medal for Valor and the Purple Heart. His service also included time with E co. 51st Long Range Surveillance, and 1st Battalion, 32nd Infantry Regiment 10th Mountain Division in the Korengal Valley, Afghanistan. Billy was a true Exceptional Warrior.
One of her and Billy's bucket list wishes was to skydive together, and thanks to the spectacular U.S. Army Golden Knights, and some other very special supporters, The FEW is truly honored to be able to help provide this opportunity for her.
Secondary Mission:
Surrounding the primary objective is additional oppurtunies for Exceptional Warriors to get in the air.
The FEW would like everyone reading this to share it with the Veterans and Patriots in their life to better reach potential attendees and sponsors (yes, it takes money to make events happen).
We can only support those with an application on file, encourage every Exceptional Warriors you know to apply and subscribe to our events page. If you are interested in attending this or any future event with The FEW, please fill out our application at http://www.exceptionalwarriors.org/participant-application-2/
If you already have an application on file and would like to attend, contact admin@exceptionalwarriors.org.