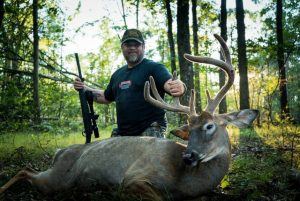 Arkansas Modern Gun Hunt
This event is hosted by the Arkansas Game and Fish Commission
Applications will be accepted for disabled military and mobility-impaired hunters through Sept. 1 for the 2017-18 special deer hunts by the Army Corps of Engineers.
Eligible applicants with paralysis, amputation of a limb, or those who have at least a 50 percent disability rating are eligible to apply and are not required to be retired military.
Active duty military in a Wounded Warrior Program are also eligible to apply for these hunts.
Applicants must submit a completed application form and a doctor's letter verifying their disability to be eligible. A drawing will be held in September to select hunters.
Disabled Military/Mobility-Impaired Hunts application coordinator for
Ouachita Nov. 18-19, Modern gun, contact Joe Bailey at (501)767-2101 ext. 73079.
Interested hunters can request applications and refer specific questions the lake's point of contact listed, or should apply by mail to the district's program coordinator Bruce Caldwell, 324 W. 7th Street, Mountain Home, AR 72653, by calling (501)340-1425, or by sending an e-mail to Bruce.w.caldwell@usace.army.mil.