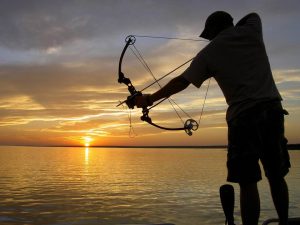 Warriors will be staying at the beautiful Angel House, an amazing lakefront home on Grand Lake of the Cherokees near Grove, OK but expect your sleeping schedule to be…adjusted as we chase giant fish with a stick and string around one of Oklahoma's most iconic bodies of water. Our guides are some of the nation's best tournament fishers and never fail to put on one hell of an event.
The Warriors will also take part in some knife forging alongside one of the contestants from Forged in Fire! You can bring a piece of metal that means something to you and make a knife from it. You won't want to miss this once in a lifetime opportunity!
The food for this event is as good as the fishing and is worth the trip by itself. The owners of the Angel House will be cooking up amazing food for the warriors.
Note: Due to the occasional instability of boats and unknown water conditions, warriors should be OK standing for periods of time on a trolling boat throughout the evening.
APPLY NOW!
We can only support those with an application on file, encourage every Exceptional Warriors you know to apply and subscribe to our events page. If you are interested in attending this or any future event with The FEW, please fill out our application at http://www.exceptionalwarriors.org/participant-application…/ If you already have an application on file and would like to attend, contact admin@exceptionalwarriors.org. You will be notified if selected to attend.
The FEW would like everyone reading this to share it with the Veterans and Patriots in their life to better reach potential attendees and sponsors. Yes, it takes sponsors to make events happen and some sponsors may attend the event. If you would like to donate and change the life of a Combat Wounded Veteran go to http://www.exceptionalwarriors.org/ways-to-donate/