3rd annual Snow Goose Hunt – Brookfield, MO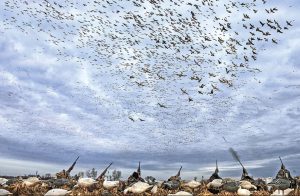 It's time to take the plugs out of the shotguns and get ready to exhaust some ammo chasing thousands of Snow Geese with some of the best bird hunters in Northern Missouri. There will also be a guide on hand for anyone that wants to go coyote hunting in the mornings. This is a tremendous opportunity to spend some time with other Exceptional Warriors and an AWESOME set of guides – not to mention that the food is about as good as it gets! If you are interested but don't have a shotgun or waterfowl gear, fear not, we can get you squared away once you get there!
APPLY NOW!
We can only support those with an application on file so encourage every Exceptional Warrior you know to apply and subscribe to our events page. If you are an Exceptional Warrior interested in attending this or any future event with The FEW, please fill out our application at http://www.exceptionalwarriors.org/participant-application…/ If you already have an application on file and would like to attend, contact admin@exceptionalwarriors.org. You will be notified if selected to attend.
The FEW would like everyone reading this to share it with the Veterans and Patriots in their life to better reach potential attendees and sponsors. Yes, it takes sponsors to make events happen and some sponsors may attend the event. If you would like to donate and change the life of a Combat Wounded Veteran go to http://www.exceptionalwarriors.org/ways-to-donate/